Kenwood TH-D72 APRS Handheld revisited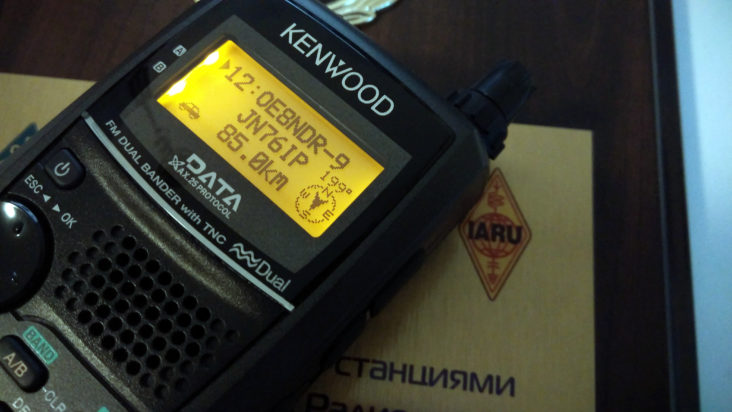 The Kenwood TH-D72 handheld radio used to be real big-time when released back in 2010: Kenwood basically squeezed all the functions and features of their mobile VHF/UHF APRS rigs (eg. TM-D710) into a handheld and hence made it perfect for outdoor use. While there are quite a bunch of similar products by other manufacturers such as Yaesu those often require additional accessories in order to utilize the full range of features. In the case of the Kenwood TH-D72 all of the functions work straight out of the box and while there is no need for external equipment this particular handheld is still as flexible as to be used with eg. wheather stations or external GPS antennas for improved performance. That versatility is indeed the reason why the Kenwood TH-D72 is still one of the top-notch handhelds out there – even after all those years it has been on the market.
The release of the brand-new TH-D74 led to significant price reductions. UK based amateur radio store ML&S recently dropped the price from £429.95 to £299.95 (incl. VAT). After having had the Kenwood TH-D72 on the radar for quite some time that price tag finally tipped the scale. Including shipping to Austria (UPS) the total price was around €400. Although this still does not sound like a bargain the TH-D72 is definitely worth it.
Basic Features of the Kenwood TH-D72
When it comes to RX/TX properties there are differences between the American and European version of this handheld (TH-D72A / TH-D72E). The European version can handle 118 MHz (AM, RX), 144 MHz (FM, RX/TX), 300 MHz (FM, RX) and 440 MHz (FM, RX/TX) while the American version uses the 430 MHz band. The second difference between the two models is the step frequency in the 144 MHz band which is 5 kHz for the TH-D72A and 12.5 kHz for the TH-D72E.
In terms of transmitting power the Kenwood TH-D72 offers three settings: High (5W), Low (0.5W) and – perfect for field days or ham fests – Extra Low (0.05W).
Also, this handheld comes with both a COM- and a USB port which makes it easy to connect external devices or to use the TH-D72 with many of the available Packet Radio- or APRS software packages. The Kenwood TH-D72 has a built-in 1200 / 9600 baud TNC (AX.25 protocol, KISS mode) and can be used as a standalone digipeater. Moreover, the internal SiRF Star III GPS receiver works together with APRS features or as a sole position tracker. For this purpose the radio functions can be switched off completely which reduces the power consumption by 40%. All the implemented feature come at a price: The Kenwood TH-D72 is relatively large compared to other – not that versatile – handhelds and weighs a whopping 370g.
Configuring the Kenwood TH-D72
Compared to "normal" handhelds the menu structure is quite massive and it might take some time to get used to it. However, Kenwood provides an excellent PC suite (called "MCP-4A") which makes it easy to configure each and every setting of the TH-D72. Besides, programming the memory channels (1000 of them find place on the radio with 8 character descriptions) this software package can be used to configure APRS settings (callsign, icons, packet filter, TNC & GPS properties, SmartBeaconing, etc.), radio settings and to read out data from the internal 5000 waypoint GPS logger.
A perfect team: Kenwood TH-D72 & SARTrack
One of the software packages I came across looking for a solution to get the most out of the TH-D72 when using it with a PC or laptop was SARTrack. This computer program – as the name might indicate – was developed to track Search and Rescue missions. It offers a wide range of different maps and overlays and features full APRS functionality. After a quick setup of TNC properties and APRS server settings it is ready for tracking, transmitting beacons, sending text messages & e-mails, etc.
Is it still worth buying the Kenwood TH-D72?
Definitely! Although on the market since 2010 this handheld is not outdated and will always be a great addition to any portable ham radio operation. It does not require any external accessories to be fully ready for APRS and a massive knowledge base has been built up by satisfied users over the years. Also, its' internal TNC is supported by the majority of software packages. Last but not least: The Kenwood TH-D72 is on sale at numerous ham radio stores right now. That is a good opportunity to get a top-notch radio for a reasonable price.